Arden, North Carolina (October 5, 2022) — Horizon Records artists The Inspirations and McKamey Legacy are winners of Singing News Fan Awards this year. The awards were presented last week at the National Quartet Convention in Pigeon Forge, Tennessee.
The Inspirations' album, What A Wonderful Time LIVE, was named Favorite Album of the year. The album — recorded at NQC in 2020 — highlights the newest generation of members, Roland Kesterson, lead vocal; Isaac Moore, tenor vocal; Wyatt Austin, bass vocal; and Luke Vaught, baritone vocal and keyboard; and captures the energy they bring to the stage.
"We are honored that our fans voted our album the favorite of the year. This album will always be special to us as being our first with this lineup, and for it to go down in history as winning album of the year is just confirmation that we are doing what God wants as well as what our fans want," says Kesterson. "It's our prayer that we be better servants than better singers. Thank you so much to all who support us in what we do as we continue to promote the gospel to this world that we live in."
Bass singer Wyatt Austin received further honors as he was named Favorite Young Artist. "To say I was surprised is an understatement," he says. "I am extremely honored for the support that you all have shown me and I love each and every one of you! This is a memory I will never forget, thank you!"
Listen to The Inspirations' What A Wonderful Time LIVE HERE.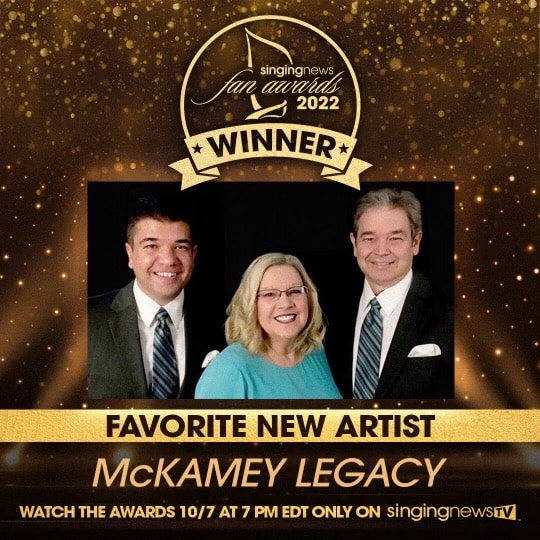 McKamey Legacy, who released their self-titled album earlier this year, was voted Favorite New Artist. The group picked up where Southern Gospel legends The McKameys left off and is composed of Ruben and Peg McKamey's daughter, Connie Fortner, her husband, Roger, and their son, Elijah, who were already integral contributors to The McKameys' sound.
"We are truly honored by the love and support from each and everyone who voted forMcKamey Legacy in the Singing News Fan Awards for Favorite New Artist," they say. "We were surprised, but pleasantly surprised by this honor and we pray that we will continue to carry the gospel in song that is pleasing to our Lord and Savior, Jesus Christ!"
Listen to McKamey Legacy HERE.